Climate Ride
is a nonprofit organization whose mission it is "to inspire and empower citizens to work toward a new energy future." It uses "sport as a means to change lives and build an effective, citizen-based sustainability movement."
Based in the United States of America (USA), the group was formed by bikers
Geraldine Carter
and
Caeli Quinn
in 2008. A year later, they were joined by
Blake Holiday
, who is now the group's bike director.
Climate Ride co-founders Geraldine Carter (left) and Caeli Quinn
Together the trio, transformed Climate Ride in to an organization that increases awareness of and raises funds for bike and environment related causes. It also brings together bikers from all walks of live, who believe that bikes are excellent modes of green transportation.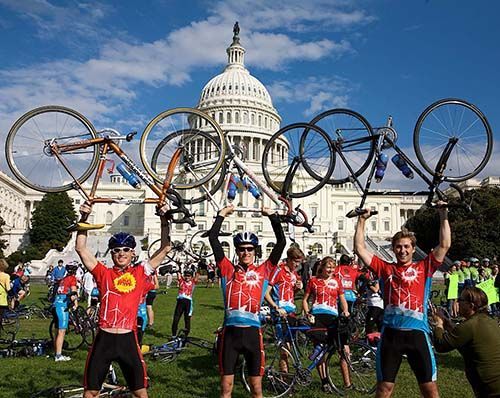 Climate Ride bikers at the finish line in Washington, D.C.
Yearly, the group holds two week-long biking events.
Climate Ride NYC-DC
is a bike ride from Manhattan, New York to Washington, D.C. Meanwhile,
Climate Ride California
starts by the California Redwoods and ends in San Francisco.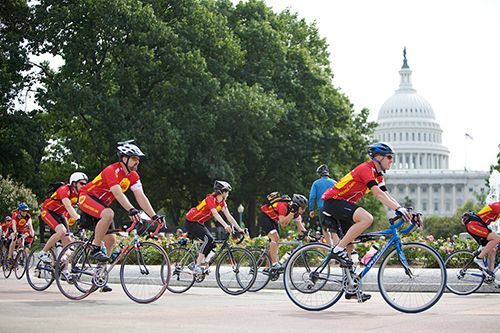 In addition, to the seven-day biking trip, participating bikers get to listen to talks on environmental topics such as sustainability, energy, and the green economy--during each night of the ride--in what is called The Expert Speaker Series.
Listen to this video where some participants share the reason why they ride:
And, here's a short inspirational clip where Climate Ride co-founder Geraldine Carter talks about how the organization was formed:
Want to ride for the planet and learn more about this biking organization? Then do visit the
Climate Ride's official website
.
Photo Credits:
1
,
2
,
3
, and
4